The Liz Team – Tropical Storm Customer Awareness
In an effort to help our customers prepare for a TROPICAL STORM/HURRICANE, our team has developed the following for your awareness and consideration!
Home Insurance



BINDING RESTRICTIONS – In the state of Florida, insurance companies will issue "BINDING RESTRICTIONS" to all their insurance policies/Insurance agencies before any Wind/Tropical Storm/Hurricane. These BINDING RESTRICTIONS are put in place right before a storm and will not allow anyone to start a new home insurance policy until/after the storm has passed. So home buyers in the process of buying a home and closing a deal during a storm, might have to pospone the closing due to the BINDING RESTRICTIONS and wait until the storm has passed UNLESS the insurance policy has been issued by the carrier.
FLOOD INSURANCE – Be aware that is mandatory by the state of Florida to have a 30 DAY WAITING PERIOD for new flood insurance policies to go into effect. Make sure you talk to your Insurance Agent to find out if you are covered!
WIND/HURRICANE Coverage – The good news is that if you are still making payments on your home thru a mortgage company, the State of Florida requires that you carry Wind/Hurricane coverage. For those that do not have a mortgage, it is extremely important to contact your Insurance Agent to verify if you have coverage or not.


Record Keeping Preparation



Video record and take photos of your home and belongings inside and outside to show the condition of your home before the storm, this will help Insurance Companies access the extent of any damages as a result of the Disaster/Storm.
Make an inventory of all your belongings before the storm and keep it in a dry/safe place, put a value estimate of each of them in the list and approximate date of purchase, This will serve as another piece of evidence that you owned these items and will allow you to provide a complete inventory list to the Insurance Company.
Scan all important documents and store them online in a Google drive or Dropbox so you can have access to them in case of a major disaster or fire. At least store them in a FIRE RESISTANT SAFE so no documents are lost in a major disaster or fire.


Hurricane Kits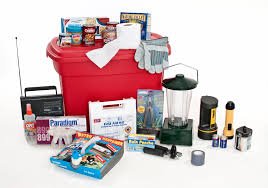 It is important to create a kit of supplies that you could take with you if you are forced to evacuate. This kit will also be useful if you are able to stay in your home, but are still affected by the storm, such as through the loss of power. One common trend seen when hurricanes are approaching is a wide-spread panic. When this happens, people rush in large numbers to get all the supplies they think they need. However, if you prepare your kit ahead of time, you can alleviate a lot of the potential stress of a very chaotic situation. You should create your kit in a bag that you can easily take with you. Some recommended items to include are:
Non-perishable food (enough to last at least 3 days)
Water (enough to last at least 3 days)
First-aid kit (include any prescription medication you may need)
Personal hygiene items and sanitation items
Flashlights (have extra batteries on hand)
Battery operated radio (again, have extra batteries)
Waterproof container with cash and important documents
Manual can opener
Lighter or matches
Books, magazines, games for recreation
Special needs items: pet supplies and baby supplies if applicable
Cooler and ice packs
A plan for evacuation and for if family members are separated


Securing Your Home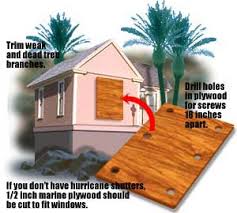 Know how to secure your home in the event of damaging winds, storm surge and flooding.

Cover all of your windows, either with hurricane shutters or wood.
Although tape can prevent glass from shattering everywhere, be warned that tape does not prevent the window from breaking.
If possible, secure straps or clips to securely fasten your roof to the structure of your home.
Make sure all trees and shrubs are trimmed and clear rain gutters.
Reinforce your garage doors.
Bring in all outdoor furniture, garbage cans, decorations, and anything else that is not tied down.
If winds become strong, stay away from windows and doors and close, secure and brace internal doors.


Power Outage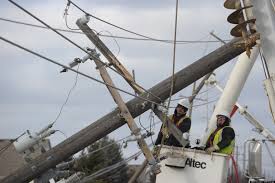 In the event a storm should leave you without power, there are a few things to consider and help you be ready and stay safe outside of your normal hurricane preparedness.
Gas: Make sure your tank is full far in advance of an approaching storm. Most people wait until the last minute, rush to get extra gas for cars and generators, and subsequently gas stations can run out early.
ATMS: Have extra cash on hand in the event no ATMS in your area are accessible or working.
Cell Phones: Charge your cell phone and limit use after power is out.
A/C: This can be the most uncomfortable side effect of losing power during a storm. Try to prevent as much light from entering and warming the house by covering up your windows on the inside. If you have back-up or battery operated fans, don't run them unless you are in the room. Fans create a difference in perceived temperature but do not cool the room; instead they create a cooling effect by dispersing the heat off your skin. It is said they can actually add heat to a room just by running.
Water: Fill bathtub and large containers with water for washing and flushing only.
Food: Turn your fridge temperature down and/or freeze any food or drinking water that can be frozen if you expect a power outage. Here is a guide on freezing food: Freezing and Food Safety. Have a cooler with ice packs prepared to cool your drinks and snacks after power has been out for more than 4 hours. And importantly, check out this food safety guide for when to discard your perishable food:http://www.foodsafety.gov/keep/charts/refridg_food.html
Health/Safety: The CDC has a great guide on how to stay safe in the event of a power outage: Power Outages
Remember, any severe storm can be deadly and destructive.
PET OWNERS
Orange County Urges Pet Owners to Prepare Ahead of Storm Season

It's important to have a written disaster plan that includes the family pet.
Rain or shine, no matter the season, pet owners should be prepared with extra supplies and a plan of action for their pets in the event of an emergency.
"It is vital for pet owners to have a written disaster plan that includes their pets," said Dil Luther, division manager of Orange County Animal Services. "In Florida, of course, we immediately think of hurricanes as the most likely scenario. Under no circumstances, however, should pets be left behind.
To help prepare your pets for hurricane season, and all year, Orange County Animal Services offers these tips:
Getting Ready
First, schedule an appointment to talk to your pet's veterinarian about planning for a disaster. Ensure your pet's vaccinations are up to date and secure a copy of their medical records.
Assemble a "Pet Disaster Kit." The kit and supplies should be stored in an accessible location in the event someone else has to transport your pet. Keep the kit updated and available. Suggested items include:
One-gallon zipper storage bag to hold the contents
Sandwich-size bags for pet treats and a small toy
Pet Health Record (each pet should display a current rabies tag at all times)
Current picture of your pet (also include a picture of you and your pet) with your name, address and phone numbers
Collar and leash for dogs, and an adjustable collar for cats
An extra identification tag
Any special information on your pet
Since you may not be home when an evacuation order is announced, find a trusted friend who is willing to pick your pets up and meet you at a prearranged location. This person should be comfortable with your pets, know where the pets should be, know where your disaster supplies and kits are located and have a key to your home. Share your plan with friends and relatives.

If forced to evacuate your home, your pet should NOT be left behind. As the disaster approaches, bring all pets in the house so that you won't have to search for them if you have to leave in a hurry. Pets are not permitted in Red Cross shelters (except for service dogs for people with special needs). Plan to go to a friend or relative's home, or a hotel/motel where your pet is welcome.
Disaster Supplies for Pets
Pet carrier or crate for each pet, sized appropriately so your pet can stand and turn around comfortably. Write your name, address and phone number on the carrier and include additional contact information for someone outside the area.
Two-week supply of pet food, water, medications and a manual can opener
Food and water bowls
Cat litter and a litter box
Newspapers, plastic bags, cleaner and disinfectants to handle pet waste
A cotton sheet to cover the carrier or crate to keep the pet calm
First-Aid Kit (Ask your veterinarian for the supplies appropriate for your pet.)
After the Disaster
Your pet will probably be disoriented and frightened. Be patient and understanding; the situation is just as traumatic to them as to you.
Consult your veterinarian if any behavior or physical problems arise.
Be aware of fallen power lines, scattered debris, flooding and misplaced wildlife, all of which can be a danger to your pet.


WEATHER INFO
Check out the Current Weather in Orlando Visit the
National Weather Service
for the most up-to-date information.
NOAA Weather Radio
NOAA Weather Radio All Hazards (NWR) is a nationwide network of radio stations broadcasting continuous weather information directly from the nearest National Weather Service office . NWR broadcasts official Weather Service warnings, watches, forecasts and other hazard information 24 hours a day, 7 days a week.

Orlando's Emergency Radio Station
1650 AM is the City of Orlando's emergency radio station and operates from the Orlando Operations Center. This service provides emergency information to citizens before, during and after a disaster. When there are no emergencies, information such as road closures, parking information or planned events will be broadcast.



For the Latest Information on Road Closures, Please Visit the Following




CONTACTS:
The Florida Emergency Information Line (FEIL) has activated and can be reached at 1 (800) 342-3557.
State Emergency Operations Center Media Line: 850-921-0217.
Follow @FLSert or @FLGovScott on Twitter for live updates on Hurricane Matthew.
Visit http://www.floridadisaster.org to find information on shelters, road closures, and evacuation routes.
Florida Emergency Information Line — 800-342-3557

The Florida Emergency Information Line (FEIL) is a toll-free hotline activated at the time of an emergency to provide an additional resource for those in Florida to receive accurate and up-to-date information regarding an emergency or disaster situation impacting the State of Florida.
FEIL line is currently activated and available 8:30 AM – 12:00 AM (midnight) Eastern Time.
Preparedness InformationShelter Information Index – index to shelter information by county
Evacuation Zone and Route Maps – evacuation zone and route maps
AlertFlorida – sign up for emergency alerts
FLGetAPlan.com – create a family or business preparedness plan
County Emergency Management Offices – county emergency management contacts and websites
National Hurricane Center – latest information from the National Hurricane Center
Currently Open Shelters – list of currently open shelter
Travel and Roadways – latest information on traffic and roads from Florida 511
Preparedness Information For BusinessesFlorida Virtual Business Emergency Operations Center – businesses can access information and updates
Mobile AppsFloridaEvacuates.com – open shelters app from FDEM Google PlayiTunes
FLGetAPlan – preparedness app from FDEM Google PlayiTunes
Florida Storms – Florida Public Radio Emergency Network Google PlayiTunes
Know Your Zone – mobile-friendly web mapping application for designated evacuation zones
FEMA – mobile app
Traffic Map – traffic map from FL511 and FHP
Power OutagesStatewide power outages – map
Contact your electric provider directly to report an outage: